December, 2016
Explore Our Nation's Capital's Historic Building Data
HistoryQuest DC Is Now Live!
December 5, 2016 (Washington, DC): In historically significant locations such as Washington, DC, the advent of commercial development and the aging of early structures jeopardize the preservation of some of the most important places in our country's history. DC is home to neighborhoods that are over 100 years old – neighborhoods that saw first-hand the unfolding events that helped shape the United States as a nation and culture.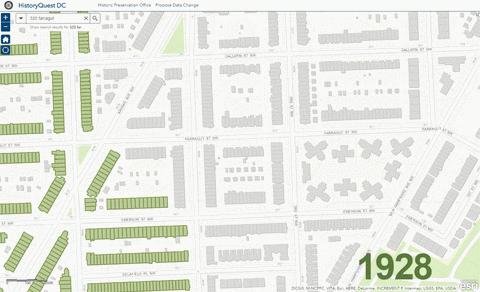 In an effort to log and map historical properties, JMT Technology Group was been working with the District of Columbia's Historic Preservation Office (DCHPO) to capture street-facing historical building data and make it available to the public. JMT has conducted extensive research, preparation of comprehensive baseline data, and classification analyses.
As an extension of this project, JMT developed an interactive map which was recently made available to the public by the District of Columbia Office of Planning containing data on nearly 127,000 extant buildings that were issued permits by the District of Columbia from 1872 to 1959. Users can explore how the nation's capital developed over the years by exploring the many map layers of information available including historic data on individual buildings, links to documentation on properties listed in the National Register of Historic Places, information on historic residential subdivisions, the identification and boundaries of the L'Enfant Plan, and the city's Squares and Wards.
The featured layer in the map—the Historical Data on DC Buildings—provides information from a variety of sources on original dates of construction, architects, owners, and builders of the city's historic buildings. 
The application also includes a Query tool that allows the user to analyze the historic data within a specified geographic area or citywide.
The application serves as a unique tool for historians and historic preservationists to research the buildings of our nation's capital, the careers of the city's architects, developers, and builders, and the development of the District.
Click here to explore Washington DC's Historical Data at HistoryQuestDC >>